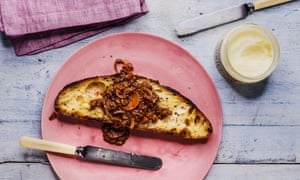 Firstly, save your dripping! Dripping toast is one of those treats for the day after, a lovely second wind from the previous day's roast. Mince is a dish discussed as much in Scotland (and indeed in London) as cassoulet is in Castelnaudary. Questions such as should you add peas or carrots can start a gastronomic row of great proportions. I do like a spot of carrot in mine.
Total cost: £9.70
Serves 4
onion 1, peeled and thinly sliced
leek 1, cleaned, sliced lengthways in half, then thinly sliced across
carrot 1, peeled, sliced lengthways in half, then thinly sliced across
garlic 2 cloves, peeled and chopped
extra virgin olive oil a splash
minced beef 750g
whole tinned tomatoes 2
oatmeal a handful
Worcestershire sauce 3 tbsp
chicken stock 250ml
For the dripping toast
good white bread 4 slices
dripping to spread generously
In a large pan, sweat the onion, leek, carrot and garlic in the splash of olive oil until softened. Add the mince, giving it a healthy stir to break up. Add the tinned tomatoes, crushed in your hand – a subliminal gesture. Keep stirring and add the oatmeal, not so much that you end up with porridge.
Stir, add the Worcestershire sauce and – if you have a bottle open – a glug of red wine. As this may take it above the £10 mark, it is delicious but not essential. Pour in three-quarters of the chicken stock and stir again.
Take a view on the liquid content; if it seems a wee bit dry, add the rest of the stock. You are looking for a loose lava consistency. Check for seasoning.
Now allow the mince to simmer gently for 1 and a half hours, if not 2 (if it is drying out, add more stock). Time allows the mince to become itself, as is the case for most of us.
Toast the bread, spread the dripping onto each slice and put under the grill for a moment to make sure it melts completely. Spoon the mince over the toast.